Benedict Bars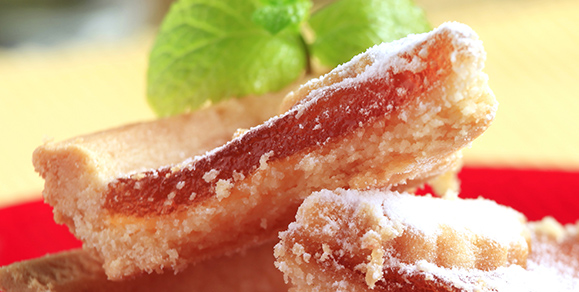 30mins
Ingredients

Topping

100g Dairygold Baking Block
60g caster sugar
1 tsp vanilla essence
200g flaked almonds or pecans
3 tbsp milk
3 tbsp raspberry jam

Base

110g Dairygold Baking Block
55g sugar
110g plain flour
55g riceflour or cornflour
These sweet little guys are based on a South African recipe and, with their almond and raspberry flavours, are very similar to Bakewell Tarts. They make a perfect addition to a lunchbox and go great with a cup of tea, so the whole family should love them!
Ingredients
Topping
100g Dairygold Baking Block
60g caster sugar
1 tsp vanilla essence
200g flaked almonds or pecans
3 tbsp milk
3 tbsp raspberry jam
Base
110g Dairygold Baking Block
55g sugar
110g plain flour
55g riceflour or cornflour
Instructions
Preheat your oven to 180°C/350°F/Gas Mk 4.
Grease and line a 20x30cm baking tin or tray – just make sure it isn't too shallow.
To make your shortbread base, cream the Dairygold Baking Block and sugar together, add the various flours and pull together to form a dough.
Once it's formed, spread it out to cover the base of the baking tin evenly.
To allow the base to set, put it in the fridge for 15 minutes or so, while you combine all the other ingredients, apart from the jam. Do this in a heavy based saucepan over a low heat until combined and leave to cool.
When your base is chilled and your topping is cool (but not set), spread the jam evenly over the shortbread, then pour over the topping.
Bake for 25-30 minutes, allow to cool on a wire rack, then slice them up in whatever portion size suits you – either 9 large or 12 medium bars.
Traybake tip: once cooled, pop the whole tray in the fridge for an hour before slicing – it'll make them easier to cut neatly.