Cheesecake with Raspberry Coulis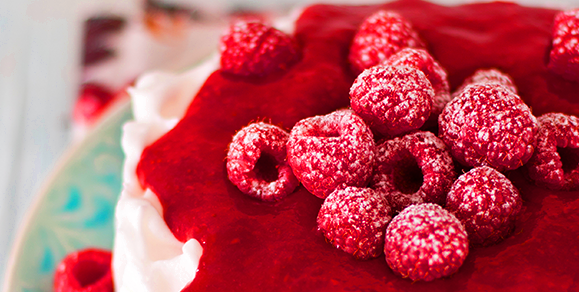 Ingredients

For the Cheesecake

200g digestive biscuits
100ml single cream
50g icing sugar
500g mascarpone
50g melted Dairygold
2 limes (untreated)

For the Raspberry Coulis

500g raspberries
A few drops of lemon juice
150g caster sugar
We all love tucking into a nice Cheescake and our Cheesecake with Raspberry Coulis does not disappoint.
Ingredients
For the Cheesecake
200g digestive biscuits
100ml single cream
50g icing sugar
500g mascarpone
50g melted Dairygold
2 limes (untreated)
For the Raspberry Coulis
500g raspberries
A few drops of lemon juice
150g caster sugar
Instructions
Cheesecake
Break the biscuits and mix them with the Dairygold in a bowl or a food processor.
Spread this crumb mixture over the base of the tin.
Zest and juice the limes.
Whip the mascarpone, single cream, icing sugar and lime zest and juice in a bowl with a whisk.
Using a spatula, spread this mixture on top of the crumb base.
Chill for at least 2 hours.
Raspberry Coulis
Wash the raspberries.
Blend the raspberries and caster sugar together.
Add a few drops of lemon juice. Blend for 1 minute.
Taste the coulis and add a little sugar, if necessary.
Pass the coulis through a sieve to remove the pips.
Store in the fridge.