Classic Scones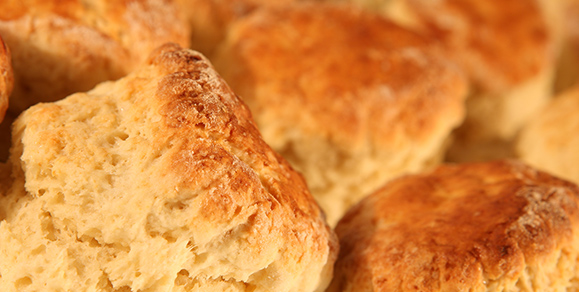 12mins
Ingredients

175g Dairygold Baking Block
900g plain flour
50g caster sugar
3 tsp baking powder
3 eggs - hold a little back to glaze
425ml milk to mix - hold 100ml back until needed
Plain scones are the cornerstone of Irish afternoon tea, especially when spread with Dairygold and a dollop of jam!
Ingredients
175g Dairygold Baking Block
900g plain flour
50g caster sugar
3 tsp baking powder
3 eggs - hold a little back to glaze
425ml milk to mix - hold 100ml back until needed
Instructions
Preheat your oven to 180°C/350°F/Gas Mk 4.
Sieve the flour, sugar and baking powder together into a large mixing bowl.
Rub the Dairygold Baking Block into the dry ingredients until you've formed a breadcrumb texture.
In a separate bowl or jug, mix your eggs and milk together, then pour into the larger bowl, making a well in its centre.
Continue to mix until you have formed a soft dough, using the extra milk if needed.
Remove your dough from the bowl and knead lightly on a floured board before rolling it out to 1 inch in thickness.
Cut the dough out into rounds and brush them with the remaining egg to glaze.
Place on a baking sheet and bake in your preheated oven for 10-12 minutes.
To serve, spread with Dairygold and strawberry or raspberry jam.