Hot Cross Cookies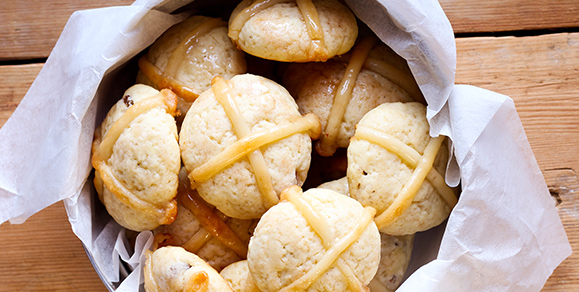 15mins
Ingredients

200 grams of Dairygold Baking Block
1 egg
250 grams plain flour
1 tsp cinnamon
2 tsp baking powder
200 grams white chocolate chips
Try a twist on the traditional with this easy peasy hot cross cookie recipe.
Ingredients
200 grams of Dairygold Baking Block
1 egg
250 grams plain flour
1 tsp cinnamon
2 tsp baking powder
200 grams white chocolate chips
Instructions
For the Cookies
Heat oven to 180C.
Lightly butter a few baking trays.
In a large bowl, beat together the baking butter, sugar and egg until it becomes smooth.
Sift in the flour, cinnamon and baking powder, then combine to make a dough.
Add the 100g of the white chocolate, and mix to combine.
Roll lumps of dough into balls the size of golf balls. Flatten these onto the trays, leaving enough space between each for them to expand.
Bake for 10 mins until golden (you may have to do this in batches).
Remove the cookies from the trays and cool on wire racks.
For the Crosses
Melt the remaining white chocolate in the microwave on Low in 20-second bursts and while in between giving it a quick stir.
Using a small piping bag or a teaspoon, carefully drizzle a cross on top of each cookie. Leave to set before eating.