Chocolate Brownies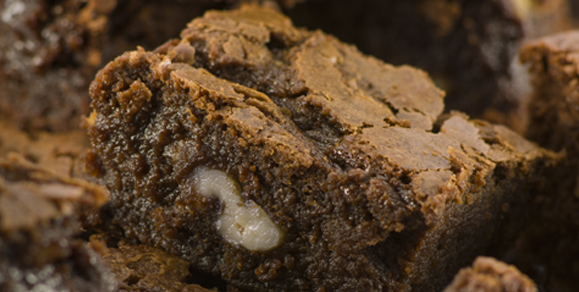 40mins
Ingredients

250g Dairygold Baking Block
250g good quality chocolate
4 eggs
335g caster sugar
150g plain flour
A pinch of salt
A cold glass of milk and a crunchy-yet-chewy chocolate brownie; is there any finer treat on earth? Of course, their versatility and downright 'chocolateyness' makes them work just as well as a dessert, slightly warm with vanilla ice cream. Mmm!
Ingredients
250g Dairygold Baking Block
250g good quality chocolate
4 eggs
335g caster sugar
150g plain flour
A pinch of salt
Instructions
Preheat your oven to 180°C/350°F/Gas Mk 4.
Line a 20x30cm cake tin with lightly greased greaseproof paper, leaving some overlapping the edges.
Heat a bowl over a saucepan of simmering water to melt the chocolate and Dairygold Baking Block, stirring gently until smooth.
Remove from the heat and add the sugar, allowing it to dissolve.
In a separate, larger bowl, lightly beat the eggs, then add them to the Dairygold and chocolate mixture, beating until they're nicely blended.
Add the flour, beating well to allow some air into the mixture.
Pour into prepared tin and bake for 30-40 minutes, until the centre has just set and the top is starting to crack.
Once removed from the oven, allow the tray-sized brownie to cool before slicing into portions and serving or storing – if you've got the willpower!