Sautéed Fruit Pancakes with Whipped Cinnamon Butter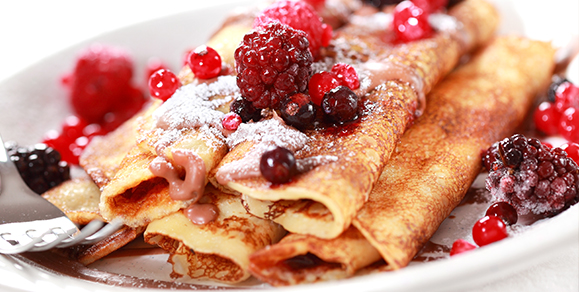 10mins
Ingredients

For the Pancake Mix

1 1/2 cups all-purpose flour
3 1/2 teaspoons baking powder
1 teaspoon salt
1 tablespoon white sugar
1 1/4 cups milk
1 egg
3 tablespoons butter, melted Dairygold

For the Filling

​100g x sugar
100g x Dairygold
400g x frozen mixed berries
Whipped butter
100g x Dairygold*
75g x icing sugar
2g x cinnamon

Optional: For a healthier option choose Dairygold Lighter
Ingredients
For the Pancake Mix
1 1/2 cups all-purpose flour
3 1/2 teaspoons baking powder
1 teaspoon salt
1 tablespoon white sugar
1 1/4 cups milk
1 egg
3 tablespoons butter, melted Dairygold
For the Filling
​100g x sugar
100g x Dairygold
400g x frozen mixed berries
Whipped butter
100g x Dairygold*
75g x icing sugar
2g x cinnamon
Optional: For a healthier option choose Dairygold Lighter
Instructions
For the Pancake Mix:
Mix or blend  all of the ingredients together, cook in a warm pan with melted Dairygold.
For the Filling:
Warm the Dairygold in a pan and add the fruit.
Once the fruit is hot, add the sugar and ensure it dissolves fully.
While that is warming, whip the Dairygold with an electric hand whisk then add the icing sugar and cinnamon, ensure it is sweet enough.
Add the fruit to one corner of the pancake and fold into a triangle, add a generous dollop of the whipped Dairygold butter.