Classic Caramel Squares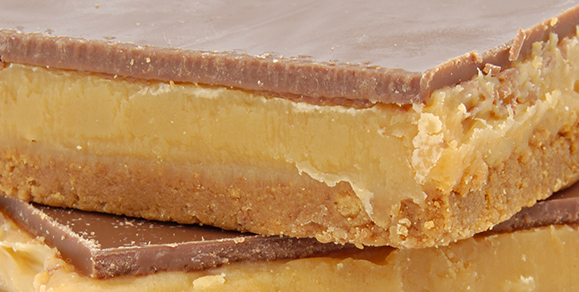 30mins
Ingredients

For the Caramel

225g double cream
225g brown sugar

For the Shortbread

110g Dairygold Baking Block
55g sugar
110g plain flour
55g riceflour or cornflour

For the Chocolate Topping

50g Dairygold Baking Block
150g best quality chocolate
This classic traybake recipe will have everyone in your house pleading for just one more. Shortbread crust… caramel centre… milk chocolate top… should we keep going? If you'd like to know how to make them, we probably should!
Preparation and cooking for caramel squares is divided into three elements, so let's take them one by one.
Ingredients
For the Caramel
225g double cream
225g brown sugar
For the Shortbread
110g Dairygold Baking Block
55g sugar
110g plain flour
55g riceflour or cornflour
For the Chocolate Topping
50g Dairygold Baking Block
150g best quality chocolate
Instructions
Instructions For the caramel:
Your caramel is best made the day before baking the squares, or at least so far in advance that it can cool completely.
Place the cream and sugar in a heavy-based saucepan and bring to the boil.
Simmer for 10 minutes on a low heat.
Pour into a jar and allow to cool, before refrigerating until needed.
Use a spoon or spatula to get the last bits out of the pan, then carefully choose your most deserving spoon-licker!
A freshly made batch of caramel can be stored in the fridge for 2-3 weeks.
Instructions for the Shortbread:
Preheat your oven to 180°C/350°F/Gas Mk 4.
In a large mixing bowl, cream the Dairygold Baking Block and sugar together.
Add the flours and pull together to form a dough.
Place this dough in a 20-30cm baking tin and prick with a fork.
Bake for 15-20 minutes and allow to cool.
Instructions for the Chocolate Topping:
Put the Dairygold Baking Block and chocolate together in a pyrex bowl.
Melt them over a saucepan of simmering water until smooth.
To assemble your squares:
Once your shortbread base is cool, spread your cooled caramel over it. You ideally should end up with an even layer about 5mm deep.
Pour the chocolate mixture over the caramel.
Smooth out this top layer and place the tray into the fridge to set for at least one hour, or until the chocolate is solid to touch.
Slice, serve, and introduce the concept of rationing!