Eggless Orange Cake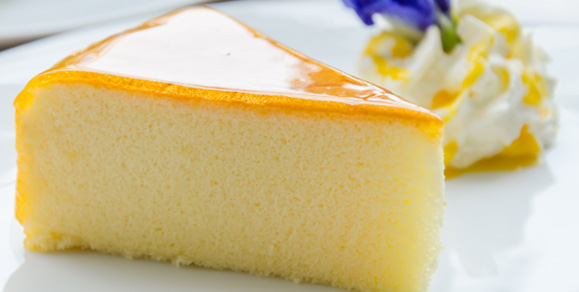 Ingredients

For the Cake

190g All Purpose Flour
200ml Condensed Milk
125g Melted Dairygold Baking Block
125ml Orange Juice
3tbsp Powdered Sugar
1tsp Vanilla Essence
1tsp Apple Cider Vinegar
1tsp Baking Powder
1/2 tsp Baking Soda
1/2 tsp Orange Zest

For the Topping

85g Orange Jelly (Yes, we said Jelly)
125ml Water
Not all cakes need eggs, and our Orange Cake is a prime example of that. Delicious as an evening snack or a Sunday dessert, so whip out the baking gear and get your utensils at the ready!!
Ingredients
For the Cake
190g All Purpose Flour
200ml Condensed Milk
125g Melted Dairygold Baking Block
125ml Orange Juice
3tbsp Powdered Sugar
1tsp Vanilla Essence
1tsp Apple Cider Vinegar
1tsp Baking Powder
1/2 tsp Baking Soda
1/2 tsp Orange Zest
For the Topping
85g Orange Jelly (Yes, we said Jelly)
125ml Water
Instructions
Preheat the oven @ 180 deg for 10 mins.
Line and grease a 8 inch square tin with butter and dust well with the all purpose flour.
Sift the flour with baking powder and baking soda into a bowl and keep it aside.
In another bowl mix well with a hand whisker melted Dairygold Baking Block, condensed milk ,orange juice, powdered sugar, vanilla essence and apple cider vinegar until everything is mixed well.
Make a well in the sifted flour mixture and pour the whisked wet ingredients mixture in the center and gently mix the mixture until you get a smooth and uniform mixture without lumps.
Add orange zest to it and mix well.
Pour the mixture into the greased square tin and tap it twice to remove the air bubbles formed if any.
Place this pan in the center of the oven and bake it for 35-40 mins until the crust is golden brown in color or if the tooth pick comes out clean when inserted into it.
After 5 mins remove it from the pan and let it cool on the wire rack.
For the Topping:
In a large measuring cup, combine 85g jelly with 1 cup boiling water then stir until gelatin is dissolved and add 125ml of cold water; let cool to room temp.
(Tip: Never pour warm jelly. Pour jelly over the back of a spoon into the pyrex dish and refrigerate another hour or until fully set.
Cut into square wedges and serve.
Store it in the air tight container.