White Chocolate & Raspberry Brownies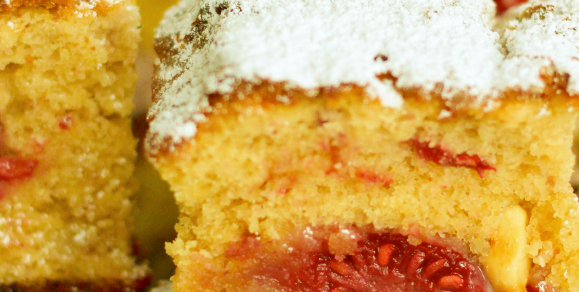 35mins
Ingredients

150g white chocolate chips
100g Dairygold Baking Block
3 eggs
175g caster sugar
1 teaspoon vanilla essence
200g self-raising flour
1 teaspoon baking powder
175g raspberries
A little icing sugar to sprinkle on top
White chocolate and raspberries make for brownies that are colourful AND tasty! Easy to make too, as you can see when you follow this simple recipe. Enjoy your homemade treats with a cold glass of milk. Delicious!
Ingredients
150g white chocolate chips
100g Dairygold Baking Block
3 eggs
175g caster sugar
1 teaspoon vanilla essence
200g self-raising flour
1 teaspoon baking powder
175g raspberries
A little icing sugar to sprinkle on top
Instructions
Preheat oven: 180ºC/350ºF/Gas 4.
Line your Dairygold Baking Tin with non-stick parchment paper.
Melt chocolate and Dairygold Baking Block in a bowl over a pot of boiling water.
Whisk eggs, sugar and vanilla essence together until thick and creamy – this could take five minutes.
Gently fold the melted chocolate and Dairygold
Baking Block mix into the whisked egg.
Gently fold in the flour and baking powder to create a thick batter.
Pour into your prepared Dairygold Baking Tin and sprinkle with the raspberries.
Bake for 30-35 minutes until crispy on the outside and soft in the middle.
Leave to cool in the tray and then sprinkle with some icing sugar before chopping into squares.
Remove paper and serve.