Tangy Lemon Drizzle Cake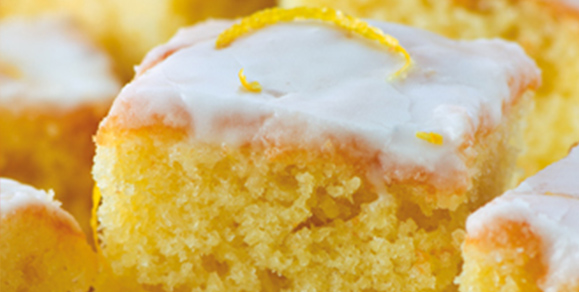 35mins
Ingredients

For the Cake

175g Dairygold Baking Block
175g caster sugar
175g self-rasing flour
3 eggs
1 tsp baking powder
Zest of 2 lemons

For the Icing

100g icing sugar
Juice of 1/2 lemon
Here in Ireland, we're no strangers to a bit of drizzle, but when it comes in the form of this deliciously zesty Lemon Drizzle Cake, you won't hear anyone complaining about it! It's a great afternoon treat whatever the weather…
Ingredients
For the Cake
175g Dairygold Baking Block
175g caster sugar
175g self-rasing flour
3 eggs
1 tsp baking powder
Zest of 2 lemons
For the Icing
100g icing sugar
Juice of 1/2 lemon
Instructions
Preheat your oven to 180°C/350°F/Gas Mk 4.
Line a 20x30cm cake tin with lightly greased greaseproof paper, leaving some to overlap the edges.
In a large bowl, beat your Dairygold Baking Block and sugar together until you have a pale, fluffy mixture.
Add the eggs, flour, baking powder and lemon zest, continuing to beat until smooth.
Pour your mixture into the prepared tin and pop in the preheated oven for 30-35 minutes. You'll know it's ready when the edges come away from the sides and its turned a light golden colour.
Remove from the oven and leave to cool slightly but not completely.
While it's doing that, make your icing by mixing the lemon juice and icing sugar together.
Once it's made, prick the top of the still-warm cake with a fork and drizzle the icing evenly over the top.
Allow it to continue to cool before slicing and serving.