Buttery Biscuits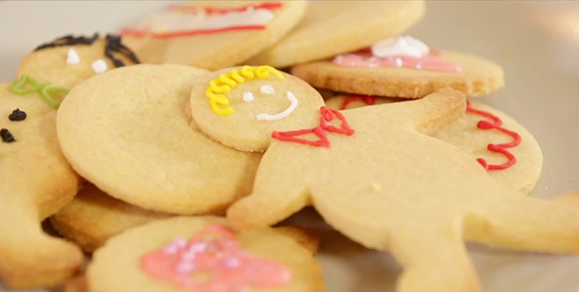 20mins
Ingredients

Half a Dairygold Baking Block
60g caster sugar
180g plain flour
Coloured icing tubes (optional)
Baking is a great way to get your kids interested in making their own food. On rainy days, it's also a fantastic way to keep them occupied – especially with the promise of getting to eat the results! This quick and easy biscuit recipe is a great "starter bake" that shouldn't take more than 20 minutes all in.
Ingredients
Half a Dairygold Baking Block
60g caster sugar
180g plain flour
Coloured icing tubes (optional)
Instructions
First, preheat your oven to 150°C/300°F/Gas Mk 2.
Add the caster sugar and half a Dairygold Baking Block into a mixing bowl.
Get mixing! Dairygold Baking Block is so easy to mix, you can do this by hand.
Once combined, add the flour and mix until it forms a stiff dough.
Roll the dough out on a lightly floured surface until it's about ¼ of an inch thick.
Use cookie cutters (whatever shape or size you fancy) to cut out the biscuits. Don't forget to take the dough "scraps" that remain from your cutouts and re-roll them to get a few extra biscuits into your batch.
Pop them onto a baking tray and add them to the oven.
They should be ready in about 10 – 12 minutes, or when they're golden around the edges.
Once you've removed them to cool on a rack, the real fun can start – decoration time! Get little tubes of coloured icing from your supermarket's baking aisle and let your junior bakers apply the finishing touches to their handiwork.