Cheese and Bacon Savoury Pancakes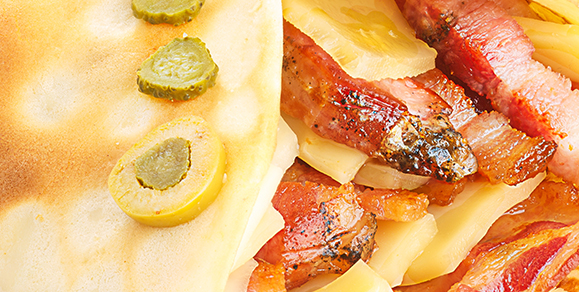 10mins
Ingredients

For the Pancake Mix

1 1/2 cups all-purpose flour
3 1/2 teaspoons baking powder
1 teaspoon salt
1 tablespoon white sugar
1 1/4 cups milk
1 egg
3 tablespoons butter, melted Dairygold

For the Filling

425ml x Milk
50g x Dairygold
25g x Flour
100g x Grated Mature Cheese
Salt and pepper to taste
150g Smoked Bacon
10g x Chopped Fate Leaf Parsley

Optional: For a healthier option choose Dairygold Lighter
Ingredients
For the Pancake Mix
1 1/2 cups all-purpose flour
3 1/2 teaspoons baking powder
1 teaspoon salt
1 tablespoon white sugar
1 1/4 cups milk
1 egg
3 tablespoons butter, melted Dairygold
For the Filling
425ml x Milk
50g x Dairygold
25g x Flour
100g x Grated Mature Cheese
Salt and pepper to taste
150g Smoked Bacon
10g x Chopped Fate Leaf Parsley
Optional: For a healthier option choose Dairygold Lighter
Instructions
For the Pancake Mix:
Mix or blend  all of the ingredients together, cook in a warm pan with melted Dairygold.
For the Filling:
Heat the milk in a pan.
Melt the Dairygold in a pan and add the flour, mix and cook out for 2 minutes.
Gradually add the milk, letting the sauce thicken each time, and making sure that there are no lumps. Continue until all the milk has gone.
Add the cheese and parsley and leave to cool.
Chop the bacon and fry it in a pan until cooked, then add to the mix.
Form you pancakes in the shape you require and serve hot.