Chocolate Chip Cookies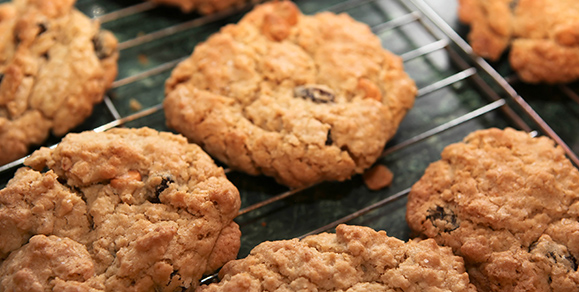 10mins
Ingredients

115g Dairygold Baking Block
100g brown sugar
90g caster sugar
1 egg
1 tsp vanilla essence
225g plain flour
½ tsp baking powder
½ tsp bread soda
75g choc chips
55g chopped nuts (optional)
Some say these are best with a nice cup of tea. Others insist it has to be a glass of milk. But everyone's in agreement – these are one of the all-time classic cookies.
Ingredients
115g Dairygold Baking Block
100g brown sugar
90g caster sugar
1 egg
1 tsp vanilla essence
225g plain flour
½ tsp baking powder
½ tsp bread soda
75g choc chips
55g chopped nuts (optional)
Instructions
Preheat your oven to 180°C/350°F/Gas Mk 4.
In a large mixing bowl, cream the Dairygold Baking Block and sugars together until light and fluffy.
Add the egg and vanilla and combine.
In a second, smaller bowl, mix the dry ingredients together. Once mixed, fold them into the wet mixture.
Once thoroughly folded, complete your dough by adding the choc chips (and nuts if desired) and stirring in thoroughly.
Divide your dough into 25g amounts (about a tablespoon's worth) and arrange them on baking sheets, allowing room for spreadage.
Bake each batch for 8-10 minutes, before removing to cool on a baking tray.
Cookie tip: You can use this basic dough recipe to make all kinds of cookies – try swapping choc chip and nuts for glacé cherries and almonds.