Luscious Carrot Cake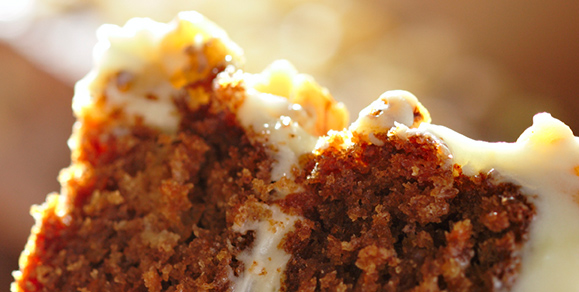 40mins
Ingredients

For the Cake

150g Dairygold Baking Block, melted
150g light brown sugar
3 eggs
200g self-raising wholemeal flour
1 tsp bicarbonate of soda
½ tsp salt
1 tsp ground cinnamon
½ tsp ground nutmeg
Zest of 1 orange
100g raisins
200g grated carrot
100g pecans

For the Icing

130g Dairygold baking block
300g soft cream cheese
160g icing sugar
The first time your kids hear 'carrot cake', they might pull a face – a cake with carrots in it? – but once they try some of this deliciously moist, sweet and dense dessert, they should be all smiles. This cake should get you between 12 and 16 slices, depending on how generous you are!
Ingredients
For the Cake
150g Dairygold Baking Block, melted
150g light brown sugar
3 eggs
200g self-raising wholemeal flour
1 tsp bicarbonate of soda
½ tsp salt
1 tsp ground cinnamon
½ tsp ground nutmeg
Zest of 1 orange
100g raisins
200g grated carrot
100g pecans
For the Icing
130g Dairygold baking block
300g soft cream cheese
160g icing sugar
Instructions
Preheat your oven to 180°C/350°F/Gas Mk 4.
Prepare a rectangular cake tin (or two sandwich tins) by lining it with lightly greased greaseproof paper, leaving some overlapping the edges.
Beat the sugar, Dairygold Baking Block and eggs together until the mixture has doubled in size.
Next, fold in the flour, bicarbonate of soda, salt and spice, making sure to mix well.
Stir in the carrots, raisins and nuts until they're evenly mixed through.
Pour into your tin(s) and bake for 35-40 minutes, before allowing to cool.
While that's happening, beat together the icing ingredients and smooth over the cooled cake.
If you made two cakes in sandwich tins, you can create a middle layer of icing for double the creamy deliciousness!