Easter Bunny Cake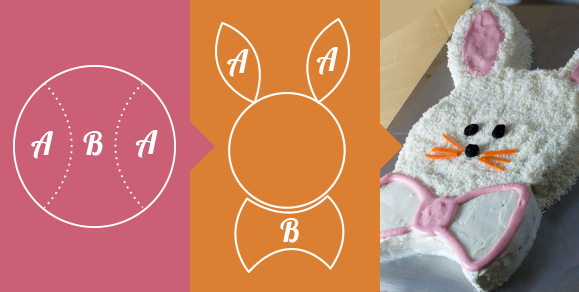 60mins
Ingredients

For the Cake (you will need 2 cakes)

225g (8 oz) self-raising flour
225g (8 oz) of Dairygold Baking Block
225g (8 oz) caster sugar
4 eggs
1 teaspoon baking powder

For the Decoration

1 3/4 cup flaked coconut
1 (16 ounce) package vanilla icing
Small jellybeans or chocolate eggs
2 drops of red food colouring
Its time to get creative and our bunny cake is the perfect recipe to have some fun. You and the kids are sure to enjoy decorating.
Ingredients
For the Cake (you will need 2 cakes)
225g (8 oz) self-raising flour
225g (8 oz) of Dairygold Baking Block
225g (8 oz) caster sugar
4 eggs
1 teaspoon baking powder
For the Decoration
1 3/4 cup flaked coconut
1 (16 ounce) package vanilla icing
Small jellybeans or chocolate eggs
2 drops of red food colouring
Instructions
For the Cake
Preheat the oven to 180 C.
Measure all the ingredients into a large bowl.
Mix all of the ingredients using a electric whisk.
Pour the mixture into 2 non-stick 7 inch (18cm) tins.
Place them in the oven for 15-25 minutes, until golden brown.
Cool on a wire rack and repeat process to make a second cake.
How to arrange and decorate:
Use one cake as the bunny head.
From the second cake, cut 2 convex shaped ears from each side, placing them on each side of the head to form ears.
Use concave shaped piece for the bowtie, place about 1/2 inch below head.
Ice entire bunny covering top and sides.
Sprinkle 2/3 of your flaked coconut around ears, head and neck tie so that it is evenly over top and sides.
Place the remaining coconut into a resealable plastic bag. Add your two drops of red food colouring and begin to shake until the mixture begins to look pinkish.
Decorate the bunny face and bowtie with jellybeans, chocolate eggs and anything else you wish. The more creative the better!