Jam Tarts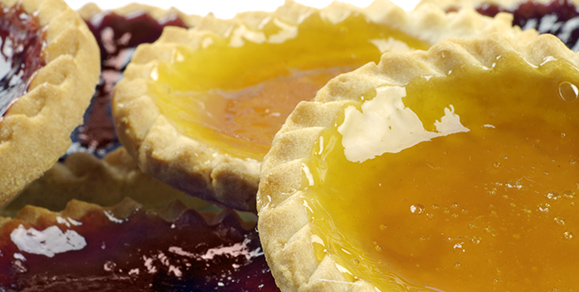 25mins
Ingredients

100g Dairygold Baking Block
225g plain flour
25ml cold water to bind
1 tsp jam per tart (the flavour is up to the baker!)
Jam tarts are another great recipe to give your kids a start in baking their own goodies. Simple ingredient list, short process, delicious results; this one is sure to get rolled out again and again!
Ingredients
100g Dairygold Baking Block
225g plain flour
25ml cold water to bind
1 tsp jam per tart (the flavour is up to the baker!)
Instructions
Preheat your oven to 180°C/350°F/Gas Mk 4.
In a mixing bowl, rub the Dairygold Baking Block into the flour until it resembles breadcrumbs.
Add the water, combining until a soft dough is formed.
On a well-floured board or flat surface, roll the dough out until it's about 3-5mm thick.
Using a 3-inch circular cutter, cut into rounds, prick well with a fork and place in bun trays.
Initially place the trays in your preheated oven for 8-10 minutes, until the tart casings are lightly golden.
Remove from the oven and add a teaspoon of your preferred jam into each casing.
Return to the oven and bake for 10-15 minutes.
Remove from the oven and allow to cool before tucking in. Fair's fair – bakers get first bite!