Coffee Cake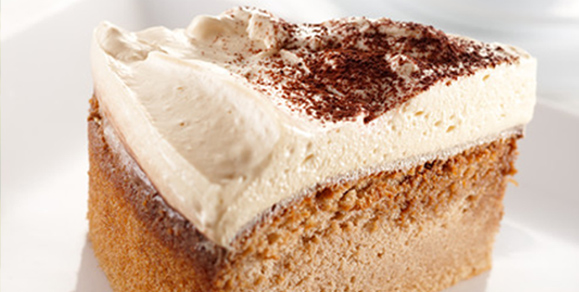 40mins
Ingredients

For the Cake

225g Dairygold Baking Block
225g caster sugar
4 eggs
225g plain flour
1 tsp baking powder
1 strong espresso or 4-5 tbsp coffee essence

For the Coffee Butter Icing

100g Dairygold Baking Block
220g icing sugar
1-2 tsp coffee essence or strong coffee
Coffee cake is an Irish staple that goes back generations. If you ever "rattled the tins" in a kitchen cupboard as a kid, chances are you'd find a sweet, moist coffee cake in one of them. Now you can make your own with this simple recipe. You should be able to get between 12 and 16 slices from this cake – lots to go round!
Ingredients
For the Cake
225g Dairygold Baking Block
225g caster sugar
4 eggs
225g plain flour
1 tsp baking powder
1 strong espresso or 4-5 tbsp coffee essence
For the Coffee Butter Icing
100g Dairygold Baking Block
220g icing sugar
1-2 tsp coffee essence or strong coffee
Instructions
Preheat your oven to 180°C/350°F/Gas Mk 4.
Grease and line a 20x30cm cake tin.
Take a small bowl and whisk all four eggs together until blended.
In a second small bowl, sieve your flour and baking powder together.
In a larger mixing bowl, beat 225g of Dairygold Baking Block and sugar together until pale and fluffy.
Add your whisked eggs into the larger bowl, bit by bit, mixing until blended each time.
Now add your sieved flour and baking powder, again a bit at a time until blended.
Finally, stir in your coffee until everything is well combined.
Pour your cake mix into the prepared tin and place in the preheated oven.
Bake for 35-40 minutes, until the cake is firm to touch and has slightly shrunk in from the sides of the tin.
While it's baking, you've plenty of time to make your icing. Simply beat the remaining 100g Dairygold Baking Block together with the icing sugar and coffee until blended.
Once your cake is ready, remove from the oven and allow to cool on a wire rack before spreading the top with icing.
Slice and serve; keep any remaining cake in an airtight tin in your kitchen cupboards – and listen out for rattling!