Chewy Flapjacks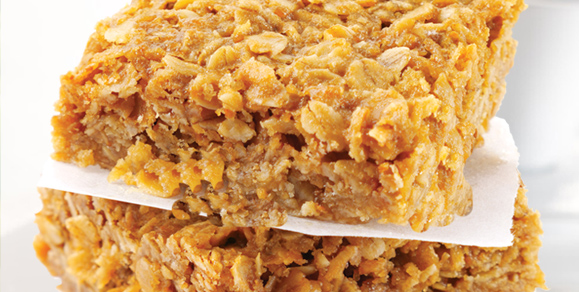 20mins
Ingredients

100g Dairygold Baking Block
80g brown sugar
250g oats
1 ripe banana
2 tbsp golden syrup
30g cranberries (optional)
We've given this traditional flapjack recipe a fruity twist to make them even chewier (not to mention tastier). If you like yours with an extra bit of natural sweetness, pop in a handful of cranberries. Either way, they're sure to be a big hit!
Ingredients
100g Dairygold Baking Block
80g brown sugar
250g oats
1 ripe banana
2 tbsp golden syrup
30g cranberries (optional)
Instructions
Preheat your oven to 220°C/425°F/Gas Mk 7.
Lightly grease a cake tin or deep baking tray.
In a deep saucepan, melt the Dairygold Baking Block, golden syrup and sugar together.
While it's melting, mash the banana with a fork. (This could be something your "Assistant Baker" can do.)
Remove from the heat and add the mashed banana to your mixture, then add the oats and cranberries.
Stir around until the oats are evenly coated, then spread the mixture into your tin.
Bake for 15-20 minutes, allow to cool, slice into squares, and get chewing!