Vanilla Cupcakes with Buttercream Icing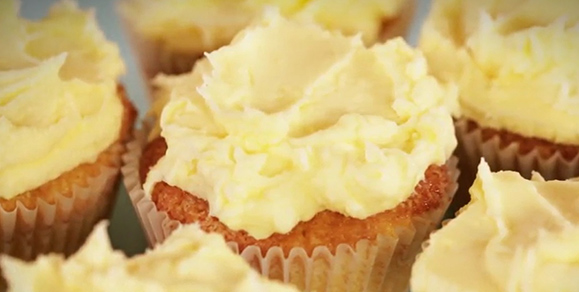 18mins
Ingredients

For the Vanilla Cupcakes

150g Dairygold Baking Block
150g caster sugar
150g self-raising flour
3 medium eggs
2 tbsps milk
1 tsp vanilla extract

For the Buttercream Icing

100g / 3 ½oz of Dairygold Baking Block
200g icing sugar
Half a lemon (optional)
1 tablespoon cocoa powder (optional)
2 drops vanilla extract (optional)
Cupcakes are small but perfectly formed treats, and these vanilla versions with butter cream icing are sweet, rich, simple and delicious. The icing in particular is quick and easy to make, so your kids will enjoy making them almost as much as everyone will enjoy eating them! This recipe makes 12 cupcakes.
Ingredients
For the Vanilla Cupcakes
150g Dairygold Baking Block
150g caster sugar
150g self-raising flour
3 medium eggs
2 tbsps milk
1 tsp vanilla extract
For the Buttercream Icing
100g / 3 ½oz of Dairygold Baking Block
200g icing sugar
Half a lemon (optional)
1 tablespoon cocoa powder (optional)
2 drops vanilla extract (optional)
Instructions
Preheat your oven to 190°C/375°F/Gas Mk 5.
Place all the cake ingredients into a mixer and beat until smooth. Alternatively, place them in a large mixing bowl and blend with a hand mixer – or your hands!
Line a 12-hole cupcake tin with paper cases and spoon the cupcake mix evenly between them.
Bake on the middle shelf of your preheated oven for 15-18 minutes. You'll know they're done when they've risen and spring back when gently pressed.
Allow to cool completely on wire racks. Meanwhile, make your icing.
To make basic buttercream icing, simply mix your Dairygold Baking Block with the icing sugar until well blended and smooth.
Depending on what flavour you'd like your icing to be, simply add the following during mixing:
Lemon flavour: add the juice of half a lemon.
Chocolate flavour: sift in a tablespoon of cocoa powder (use a sieve to avoid lumps).
Vanilla flavour: add 2 drops of vanilla extract.
Use a flat knife or icing bag to spread or pipe the icing onto the cooled cupcakes.
Important house rule: No eating the icing until it's on the cakes! Well, maybe just a little bit.