BLT Supreme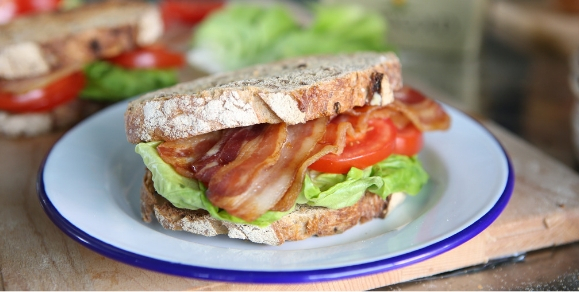 Ingredients

1 avocado
2 tablespoons fresh lemon juice
1/2 teaspoon salt
1/8 teaspoon cayenne pepper
Dairygold Softer
2 pieces of bacon
2 slices whole-wheat bread
Handful of romaine lettuce
1 medium tomatoes, cut into slices
1/2 small red onion, thinly sliced
The BLT is a sandwich classic, but we have added a new twist to make it even better!
Ingredients
1 avocado
2 tablespoons fresh lemon juice
1/2 teaspoon salt
1/8 teaspoon cayenne pepper
Dairygold Softer
2 pieces of bacon
2 slices whole-wheat bread
Handful of romaine lettuce
1 medium tomatoes, cut into slices
1/2 small red onion, thinly sliced
Instructions
Combine your avocado, lemon juice, salt, and cayenne pepper in a bowl to make the avocado spread. Mash until smooth and set aside.
Prepare bacon as directed on package and, once cooked, drain thoroughly on paper towels.
Toast bread and generously spread some Dairygold Softer evenly across each slice.
Once the bread is golden with Dairygold Softer, get your avocado mix and spread evenly across one slice. Top with the bacon, lettuce, tomato, and onion.
Cover with another slice of toast, cut sandwiches in half and enjoy!