Butterscotch Apple Pancakes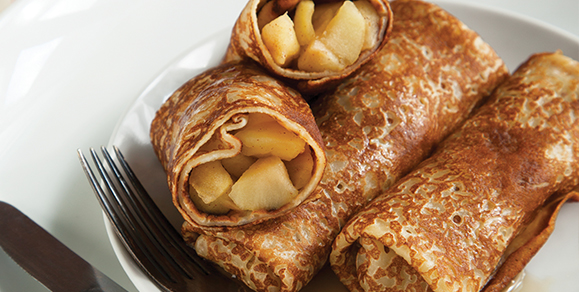 10mins
Ingredients

For the Pancake Mix

190g of all-purpose flour
14g of baking powder
4g salt
4g white sugar
370 ml of milk
1 egg
40g of butter, melted Dairygold

For the Filling

100g x sugar
50g x Dairygold*
5 x Granny Smith Apples

Optional: For a healthier option choose Dairygold Lighter
Ingredients
For the Pancake Mix
190g of all-purpose flour
14g of baking powder
4g salt
4g white sugar
370 ml of milk
1 egg
40g of butter, melted Dairygold
For the Filling
100g x sugar
50g x Dairygold*
5 x Granny Smith Apples
Optional: For a healthier option choose Dairygold Lighter
Instructions
For the Pancake Mix:
Mix or blend  all of the ingredients together, cook in a warm pan with melted Dairygold
For the Filling:
Peel the apples and cut them into your preferred shape
Add the sugar to a cold pan, place on the stove and melt slowly
Once the sugar has started to change colour(syrup colour)
Add your apples and make sure that they are fully coated, and the sugar becomes liquid again.
Add the Dairygold and melt, until you have a rich looking butterscotch sauce.
Add to the pancakes and roll.