Avocado, Feta and Spinach Sandwich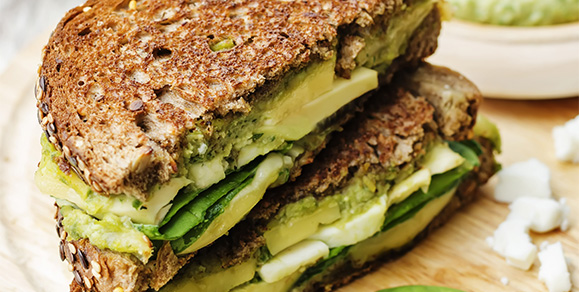 6mins
Ingredients

Dairygold Lighter
Half an Avocado, mashed
50g of Spinach leaves
15g of feta, crumbled
Salt and pepper
A healthy, vegetarian classic with Dairygold Lighter. Full of good fats and protein, it's proven to please even the fussiest of eaters!
Ingredients
Dairygold Lighter
Half an Avocado, mashed
50g of Spinach leaves
15g of feta, crumbled
Salt and pepper
Instructions
Thinly spread some Dairygold Lighter on the outside of the bread, and place them on a hot grill.
Grill each side until toasted about 2 minutes.
Mash avocado with a fork, add the chopped spinach leaves, sprinkle a pinch of salt and pepper and spoon it evenly in bread slices.
Crumbled the feta inside, slice and serve immediately!