Decadent Chocolate Cake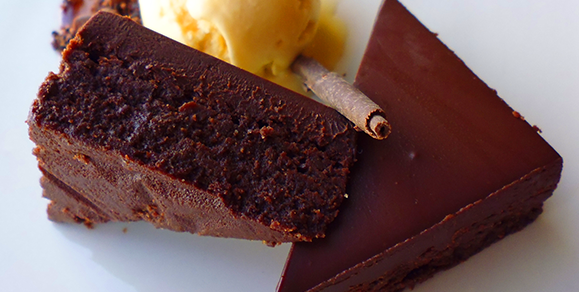 45mins
Ingredients

For the Cake

256g all-purpose flour
400g sugar
85g unsweetened cocoa powder
2 teaspoons baking powder
1½ teaspoons baking soda
1 Dairygold baking block
1 teaspoon salt
1 teaspoon espresso powder
250ml of milk
100ml vegetable oil
2 eggs
2 teaspoons vanilla extract
250ml boiling water

For the Icing

350g icing sugar
6 tablespoons unsweetened cocoa powder
6 tablespoons of Dairygold
5 tablespoons evaporated milk
1 teaspoon vanilla extract
Try this amazing decadent chocolate cake recipe, a show-stopping party piece that will wow the kids and the adults too. Perfect for any family occasion.
Ingredients
For the Cake
256g all-purpose flour
400g sugar
85g unsweetened cocoa powder
2 teaspoons baking powder
1½ teaspoons baking soda
1 Dairygold baking block
1 teaspoon salt
1 teaspoon espresso powder
250ml of milk
100ml vegetable oil
2 eggs
2 teaspoons vanilla extract
250ml boiling water
For the Icing
350g icing sugar
6 tablespoons unsweetened cocoa powder
6 tablespoons of Dairygold
5 tablespoons evaporated milk
1 teaspoon vanilla extract
Instructions
For the cake:
Preheat oven to 350º F or 180ºC. You will need two 9-inch cake pans, greased with our Dairygold baking block.
In a mixing bowl add the flour, sugar, cocoa, baking powder, baking soda, salt and our secret ingredient, espresso powder. Mix together using an electric whisk untill they are well combined and form a thick consistency.
Add your milk, vegetable oil, eggs, and vanilla to the flour mixture and mix together until well combined. Reduce your mixing speed and carefully add your boiling water. Whisk one last time for approximately one minute and then allow to cool.
Distribute the cake batter evenly between the two prepared cake pans. Bake for 30-35 minutes, until a toothpick or cake tester inserted in the centre comes out clean.
Remove from the oven and allow to cool for about 10 minutes, remove from the pan and cool completely.
Ice the cake with the Chocolate Icing.
For the icing:
In a medium bowl, sift the icing sugar and cocoa together, and set aside.
In a large bowl, cream the butter until smooth, then gradually beat in the sugar mixture alternately with evaporated milk. Blend in vanilla. Beat until light and fluffy. If necessary, adjust consistency with more milk or sugar.