Chocolate Egg Nests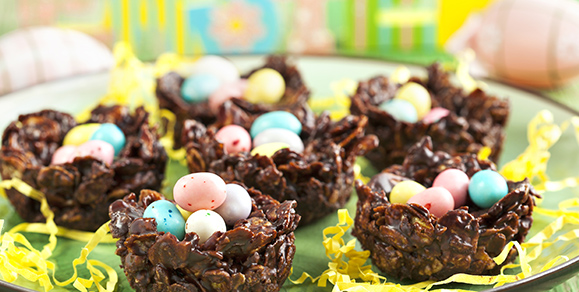 130mins
Ingredients

200g milk chocolate, broken into pieces
85g Shredded Wheat (crushed) or 65g of Rice Krispies
2 x 100g bags mini chocolate eggs
Delicious all year round but especially good around Easter time, the kids will have loads of fun making these chocolate egg nests.
Ingredients
200g milk chocolate, broken into pieces
85g Shredded Wheat (crushed) or 65g of Rice Krispies
2 x 100g bags mini chocolate eggs
Instructions
Add the chocolate into a small bowl and place over a pot of some simmering water, stirring occasionally.
Get a bowl and scrunch the shredded wheat with your hands so that it begins to look like minute sticks.
When the chocolate has melted, remove from the heat and place it carefully on the table.
Add the bowl of crushed shredded wheat or rice krispies into the chocolate, and now its time to stir!
After the chocolate has been absorbed by the shredded wheat/rice krispies, you can now begin to spoon the mixture into twelve cupcake cases.
To create the hollow in the middle of the nest, use a teaspoon to press down in the centre.
Add a mini egg or two in the hollow. It's a perfect way to use up any unwanted chocolate eggs!
Let the kids try!