Halloumi & Avocado Wrap with Dairygold Deli Original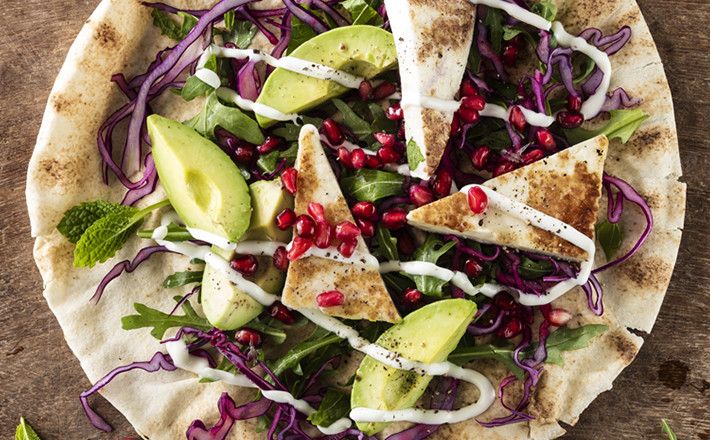 15mins
Ingredients

Dairygold Deli Original
1 wholemeal wrap
1 ripe avocado
250g halloumi
100g of pickled red cabbage
Fresh mint leaves
40g pomegranate seeds
Squeeze some Dairygold Deli Original onto an open wholemeal wrap with pickled red cabbage, fresh mint, sliced avocado, grilled Halloumi and pomegranate seeds for the perfect livened up lunch!
Ingredients
Dairygold Deli Original
1 wholemeal wrap
1 ripe avocado
250g halloumi
100g of pickled red cabbage
Fresh mint leaves
40g pomegranate seeds
Instructions
Warm the wrap under the grill, and dress with pickled red cabbage, mint and sliced avocado.
Heat a non-stick frying pan or griddle pan. Cut halloumi into 6-8 slices and cook quickly on each side for 2 mins until lightly tinged brown.
Place on the wrap, add a dash of pomegranate seeds and lightly drizzle Dairygold Deli Original on top.
The perfect instagrammable light lunch.