Mediterranean Salmon Sandwich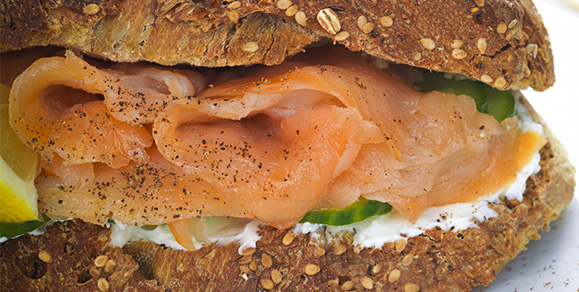 15mins
Ingredients

2 slices wholegrain bread
A generous spread of Dairygold Original
2 slices of fresh smoked salmon (roughly 60g)
Salt and freshly ground pepper
1/2 small red onion, finely chopped
Handful of kalamata olives, pitted and sliced
Red bell pepper, peeled, seeded, and chopped
Handful of chopped fresh flat-leaf parsley
Juice of 1 lemon
Fish is a staple of healthy eating, so satisfy your salmon cravings with one of our favorite sandwich recipes – made all the better with a generous spread of Dairygold Original.
Ingredients
2 slices wholegrain bread
A generous spread of Dairygold Original
2 slices of fresh smoked salmon (roughly 60g)
Salt and freshly ground pepper
1/2 small red onion, finely chopped
Handful of kalamata olives, pitted and sliced
Red bell pepper, peeled, seeded, and chopped
Handful of chopped fresh flat-leaf parsley
Juice of 1 lemon
Instructions
Mix the red onion, olives, bell pepper, parsley, lemon juice, and a dash of olive oil in a bowl. 
Mix in the smoked salmon to the bowl. Season it with salt and pepper to taste. 
Toast the wholegrain bread, and smoother the toasted bread with a generous amount of Dairygold and then take the filling and spoon on top.
Cut the sandwiches diagonally in half, and serve. Delicious!