Orange & Cream Pops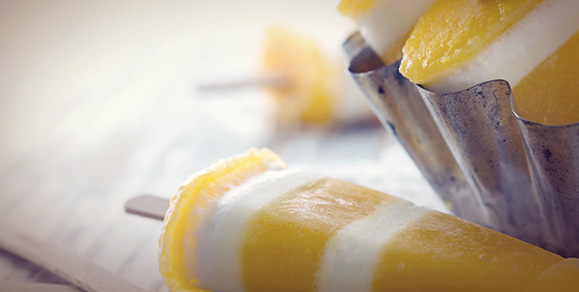 Ingredients

Grated peel of 1 orange
1kg of vanilla ice cream
470ml of orange sorbet
Ice cream season is in full swing, but no need to wait for the ice cream van to stop by. These 3 Ingredient orange ice cream lollies are easy peasy to make and can be kept in the freezer, ready for the next hot and sunny day.
Ingredients
Grated peel of 1 orange
1kg of vanilla ice cream
470ml of orange sorbet
Instructions
Grate the orange peel into a medium bowl
Add the ice cream to the bowl of grated orange peel and mix
Spread half the mixture onto a baking tray
Evenly spread the orange sorbet across the ice cream mixture.
Spread the remaining ice cream & grated orange mixture across the sorbet
Stick ten ice lolly sticks into the ice cream, in two rows about two inches apart. Cover and freeze until firm.