Roasted Brussels Sprouts with Bacon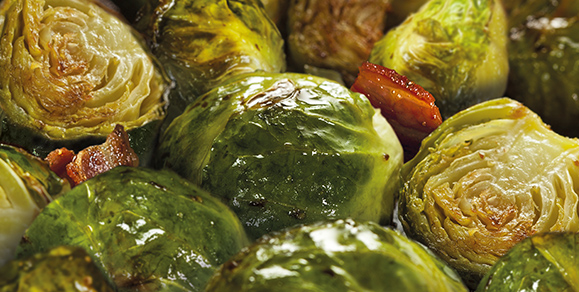 40mins
Ingredients

2-3 tbsp Dairygold
1.5lbs or 800g Brussels sprouts, trimmed and halved
4 slices bacon diced
1 tbsp balsamic vinegar
Salt and pepper
Here's a modern twist on an old favourite, Dairygold Roasted Brussels Sprouts with Bacon, proven to please even the fussiest of eaters!
Ingredients
2-3 tbsp Dairygold
1.5lbs or 800g Brussels sprouts, trimmed and halved
4 slices bacon diced
1 tbsp balsamic vinegar
Salt and pepper
Instructions
Preheat the oven to 200C. Melt the Dairygold in a pan before tossing the halved sprouts in. Season with salt and pepper.
Line an oven tray with tinfoil and spread the sprouts in an even layer. Sprinkle with the diced bacon. Cook for 30-35 minutes turning a few times. When ready, toss into a serving bowl and sprinkle with balsamic vinegar.