Caramelised Apple Tart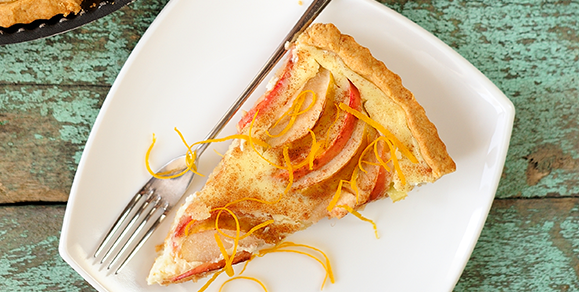 40mins
Ingredients

1 unbaked shortcrust tart pastry case
2 medium eggs
Half a lemon
1 teaspoon Calvados (apple and pear brandy)*
1 teaspoon vanilla extract
3 apples
45g Dairygold
115g sugar (for the caramel)
2 tablespoons caster sugar
2 tablespoons thick crème fraîche
1 teaspoon ground cinnamon
Everybody loves their granny's apple tart! Well now its time to turn the tables as their is a new recipe in town.
Ingredients
1 unbaked shortcrust tart pastry case
2 medium eggs
Half a lemon
1 teaspoon Calvados (apple and pear brandy)*
1 teaspoon vanilla extract
3 apples
45g Dairygold
115g sugar (for the caramel)
2 tablespoons caster sugar
2 tablespoons thick crème fraîche
1 teaspoon ground cinnamon
Instructions
Wash the apples and slice them into thin wedges.
Squeeze the juice of half a lemon over the sliced apples.
In a saucepan, cook the apple slices in the Dairygold and sprinkle with the sugar. Cook over a moderate heat for 5-7 minutes, stirring gently from time to time.
Remove from the heat and allow to cool.
Using a blender or food processor, blend the eggs, caster sugar, crème fraîche, Calvados, vanilla extract and cinnamon until the mixture is smooth and creamy.
Arrange the apple slices in the pastry case. Pour the egg mixture on top.
Bake for 30 minutes at 180°C (Gas Mark 4)Allow to cool.
*Please note that this recipe contains a small amount of alcohol (Calvados).